Couscous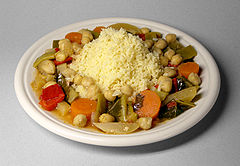 3-4 servings

Ingredients:

2 cups uncooked couscous
2 tablespoons olive oil
1 large onion, cubed
1 large green pepper, cubed
1 large zucchini, cubed
2 potatoes
2 carrots
14 ounces chickpeas
4 tablespoons tomato paste
1 tablespoon chili paste or harissa
1/2 tablespoon paprika
1/2 tablespoon cinnamon
1/2 tablespoon cumin
1 teaspoon salt and pepper

Method

1) Saute onion and olive oil in a saucepan over medium heat.

2) Add tomato paste, chickpeas, and 1 cup of water, and allow to boil for 15 minutes.

3) Cut vegetables, place them into pot, add 4 1/4 cup of water, and bring to a boil. Allow to cook for 30-45 minutes, or until veggies are cooked.

4) To prepare couscous, place it into a collander or sifter, replacing about 1 cup water with tomato sauce. (NOTE: I used couscous that only needed to sit in hot water for 5 minutes to cook. When doing so, I used 1 cup water and 1 cup of the sauce).

5) Place couscous in a large bowl, pour some of the sauce over it, and arrange vegetables on top.




BRAISED LAMB SHANKS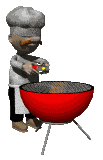 INGREDIENTS:

* 4 lamb shanks
* 2 Tblsp. Olive oil
* 2 onions [chopped]
* 1/4 cup Armenian or Italian parsley [chopped]
* 1 green bell pepper [chopped]
* 1/2 cup white wine
* 15 0z. can of crushed tomatoes or tomato sauce
* 1 teaspoon of fresh basil leaves [chopped]
* 1 teaspoon fresh mint leaves [chopped]
* 1 teaspoon fresh Rosemary leaves
* 1 teaspoon crushed garlic
* 2 tablespoons brown sugar
* 1 tablespoon dijon mustard
* Salt and pepper to taste

PREPARATION:

* In a heavy skillet, brown off the lamb shanks in the olive oil.
(Can also be placed on a grill and browned off) Mix the rest of the ingredients and pour over the shanks.
Cover and bake at 350 degrees for 2 hours or until tender. Baste with the sauce 2 or 3 times during cooking.
(Can be cooked on top of the stove in a covered skillet or chicken fryer at a med-low setting and served when the meat begins to fall off the bone.
About 2 hours.
Add white wine or water if necessary ).




ARMENIAN LAMB STEW




If you are going to stew lamb, do it the Armenian way!

INGREDIENTS:

2 lbs. lean lamb breast or shoulder, cubed with all fat and gristle removed.
1 15 oz. can crushed or stewed tomatoes
1 large yellow onion [chopped]
Potatoes, carrots and celery [cut into bite sized portions]
1 cup red wine
1 teaspoon garlic [crushed or minced]
1/4 cup green bell pepper [chopped]
1/2 teaspoon fresh basil [chopped]
1/2 teaspoon fresh mint [chopped]
1/4 cup Armenian or Italian parsley [chopped]
Salt and pepper to taste
2 tablespoons olive oil

PREPARATION:

Brown off lamb in olive oil and add onions, bell pepper and garlic and saute until onions are translucent.
Add all other ingredients EXCEPT potatoes, carrots and celery and simmer for 1 hour. Add the vegetables and simmer another 1/2 hour.
* For a thicker soup add a little flour, cornstarch, or instant mashed potato flakes.




MOROCCAN CARROT SOUP




INGREDIENTS:

5 c. clear chicken stock
1/2 c. diced onion
1/2 tsp. ground caraway seed
3/4 tsp. cumin seed
1 Tbsp. minced fresh garlic
1 Tbsp. strained fresh lemon juice
1 Tbsp. fresh lime juice
1 lb. peeled carrots, sliced in 1/4 rounds

Boil all ingredients until tender, about 20 minutes.
Cool and drain, reserving the liquid. Puree the vegetables until completely smooth.
Add the reserved liquid and chill.
At serving time, garnish with minced coriander or parsley.
Serves 4 to 5. One serving equals 75 calories.




EGYPTIAN TORTE




INGREDIENTS:

1 yellow cake mix, baked as directed
1 tsp. coconut extract
1 large container Cool Whip or
real whipped cream

Add coconut extract to cake mix and bake as directed in 2 (9-inch) layers.

Filling:
1 pkg. pitted dates, chopped (8 oz.)
1 1/3 c. evaporated milk
1 1/3 c. sugar
4 slightly beaten egg yolks
1/2 c. butter
1 tsp. vanilla

Cook and stir filling over medium heat until thickened.
Add 1 cup toasted sliced almonds. Cool. Split cake layers.
Spread between layers and on top. Frost side with Cool Whip.
Refrigerate.